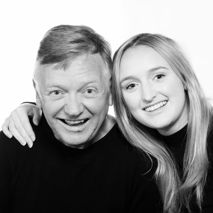 ALS Fundraiser - Awesome London Stretch
Donate
Created By:

Sandra Kilhof Nielsen

Collecting for:
ALS Fundraiser - Awesome London Stretch
Hikers, strollers, marchers, ramblers and schleppers, come join me for this 20K tour de London in support of Muskelsvind Fonden - the Danish ALS & MS association.

The foundation has given endless support to my family as my Dad battles ALS. This rare and horrific disease is diagnosed in more then 15 people a day and unfortunately funds in sclerosis research have been limited, hindering significant scientific or medicinal breakthroughs since the 1990s.

Since the ice bucket challenge, some progress has been made but this disease needs more awareness and unfortunately, no cure has yet been found. As such, my father will eventually lose all his muscular functions including the ability to talk, walk and hold my mother's hand. Let's do what we can to raise awareness and support research so that in the future, hopefully, we can delay the effects of this horrific disease and with time, maybe even find a cure.

Walking a few hours around London, we'll all get 20 kilometers exercise, and hopefully raise some money for those who cannot walk anymore. And who wouldn't enjoy views of the parks and Thames river for a good cause?! So let's get schlepping!
Maersk Drilling og Maersk Supply

donated

17,610 kr.

This donation is a result of our raffle and quiz night. All the best.

Billy Bambrough

donated

250 kr.

Yaz And Alvaro

donated

500 kr.

Yaron Shavit

donated

150 kr.

Kat Goodman

donated

100 kr.

Alan Keane

donated

500 kr.

Good luck guys. Sorry I can't be there!

Michael Considine

donated

1,000 kr.

Nelson Ferreira

donated

250 kr.

I still believe in Humanity only because of people like Sandra that for this particular reason or any other prove they're meant to change the world. I will always join them, no matter what.

Axel Tuetken

donated

500 kr.

Lea & Joao Nielsen

donated

1,000 kr.

Knus fra Lea, Joao, Tomas, Billy & Nala <3

Sandra Kilhof Nielsen

Hi everyone! Thanks for the phenomenal support! This Saturday our 20k will hit the streets of London and hopefully raise some much needed awareness for ALS and it's research. Here's the route for those who are joining and please keep spreading the word so we can do our best to fight this disease!

https://www.google.co.uk/maps/dir/Paddington+Stati...

Mille-Sophie Winge

donated

250 kr.

En god sak Sandra - dette vil jeg selvfølgelig støtte!

Janne og Michael Andersen

donated

600 kr.

Atlantic Shipping

donated

2,000 kr.

Sarah Dolly

donated

250 kr.

Jorgen Luxhoj

donated

500 kr.

Best wishes in this difficult time

Bente Kilhof

donated

500 kr.

Alle mine bedste ønsker til Jørn og hele familien

Winnie's lunchtime ladies

donated

500 kr.

Engelbert Mertens

donated

1,000 kr.

Vi ses, kærlig hilsen Jette og Engelbert

Kirsten Lauritsen

donated

100 kr.

Anna Frogner

donated

500 kr.

Det er en god sag - held og lykke med det hele!! X

Fenella Fudge

donated

250 kr.

Lars Christiansen

donated

2,000 kr.

Kaere Jorn, Tak for sidst - dejligt at se at din gamle lune og skaeve smil er intakt! Vi krydser fingre for dig, min ven, med haab om at du maa faa den bedste behandling. Hils Winnie, Sandra og Patrick. Bedste hilsner Ingvill, Lars, Frederik og Oline

John Nielsen

donated

1,000 kr.

Dear Jørn, I am totally shocked and saddened to receive this news, and my thoughts go out to you, Winnie, Sandra and Patrick. Hoping for the very best for you. John